APRIL PROMOTION (LIMITED TIME PACKAGE)
"Can you believe that pre-wedding photography, actual day stuffs and all at just $1988?"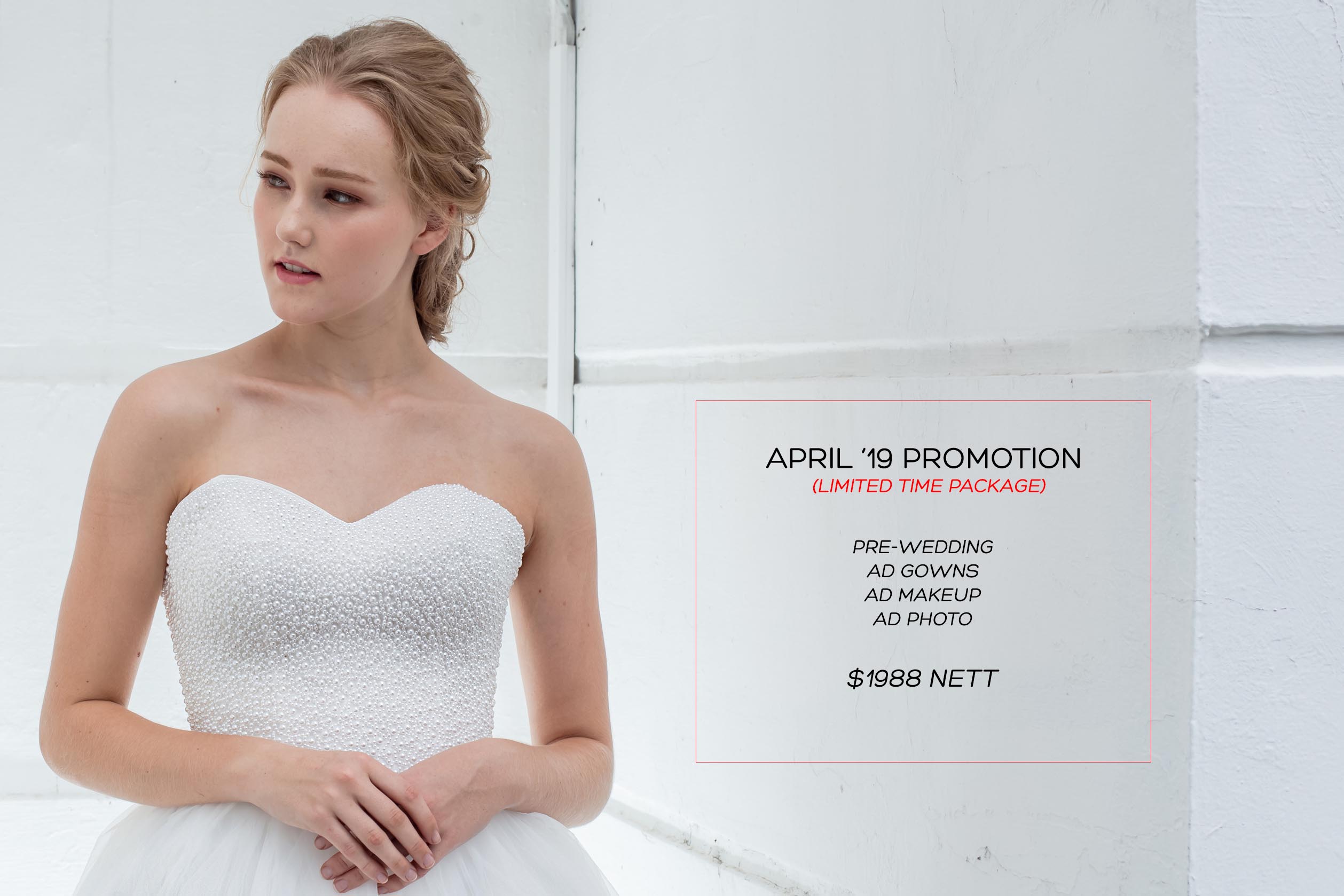 WE HEARD YOU!
You want a package that comprises :
Pre-Wedding Photography (All Softcopies)
Actual Day Essentials (Gowns/ Makeup/ More)
Actual Day Photography (Full Day)
That will probably cover most of the stuffs that a bridal house will be able to provide you BUT in actual case, getting all these stuffs will set your budget back by quite a bit.
When we heard you the 2nd time, our team have been cracking our heads to think of something that are able to fulfill all the above PLUS making the package at an affordable price of less than $2000. We will love to go lower than $1988 but with the cost of operating a business in Singapore getting higher every single day, we have no choice but to stick with that price.
But hey, we don't think this price is something you will ever get in any of the bridal house (even if they are on sale or wedding fairs). Yup, you hear me right, NOT EVEN IF THEY ARE HAVING A SALE!
So if you are still with me right now, I will like to invite you to our cosy studio to discuss more and try out some of our wedding dress.
PS : Do note this is a limited time package and probably going to be here for this month. 
April 2019 Promotion (Limited Time Package)
$
1988
Actual Day Essentials
2 x Gowns for Bride (Premium)
2 x Suits for Groom
Makeup and Hairstyling (Morning + Luncheon/Dinner)
Fresh Flower Bouquet
Bridal Car Decoration
Pre-Wedding Photography
1 x Basic Gown for Bride
1 x Suit for Groom
1 x Makeup and Hairstyling
3 hours Shoot (1 hr Studio + 2 hr Outdoor)
20 Edited Softcopies
All softcopies return (unedited but colour corrected)
Actual Day Photography
Up to 10 hours coverage
1 x Photographer
All softcopies (colour corrected) returned
Why Us?
Great product with excellent service at a low price.
Winner of Excellence in Service Award 2018 by Singapore Trade Association.
Multiple Award Winning Photography by PPAC International Competition.