Are you looking for actual day photography who visualizes through his camera in the traditional way or someone who does creative shot? There is a growing movement towards an unobtrusive method of catching moments of the wedding day which is more natural in its approach. The photographers at Yikeshu captures the wedding day as it unfolds. There will be less of the usual gathering of the couple and guests to pose for photographs. But of course, if you prefer, these shots can still be taken. The photographer is almost invisible to the family and friends and simply capture the moments as they happen.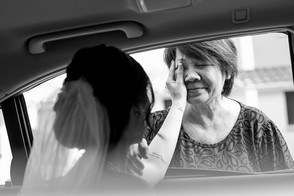 Our style of wedding photography creates a narrative and more natural style, each photograph will help tell a comprehensive story of your wedding day. It starts with how the bride prepares for her special day, and ends with the wedding banquet that comes after. The whole idea of documentary actual day photography is to capture moments in a chronological order as it happens during your wedding day. The photographer keeps an eye on everything that happens and try to capture the defining moments of the wedding. The duty of our wedding photographer is to produce photographs that will remain special for both the groom and the bride as they will recreate their wedding day through pictures.
What is exceptional with this style of wedding photography, is that the day can commence without any disturbance usually caused by people having to pose for pictures. The groom and bride can focus on what really matters on their wedding day which is to show their love for each other.
We do have our own sets of gowns that can be off the rank rental or made to measure. You may check out some of our gowns collection.
For local pre-wedding photography in Singapore, please take a look here.
For overseas pre-wedding photography, please take a look here.
[call_to_action full_width="yes" content_in_grid="yes" type="normal" show_button="yes" button_text="CONTACT US NOW" button_link="http://www.yikeshu.com.sg/contact-us"]
ARE YOU READY FOR YOUR BIG DAY?
Each wedding is unique. Every ceremony and wedding day deserve the best coverage. Yikeshu Wedding Photography and Bridal Studio is grateful to be part of your eternal memories. Your wedding photography are not just photos. These are some life-changing moments you want to cherish forever. With love and passion we aim to capture your memories.[/call_to_action]